Cooperation!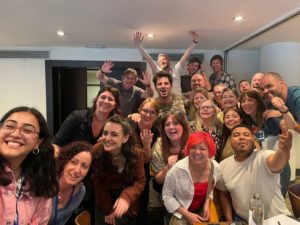 This word is not only the main intention of our team building activities. For us at Catalyst, it also has international significance.
Every year, except during the covid period, representatives of Catalyst CR and other international agencies from all over the world gathered in one place to enrich each other with their experiences and insights from the development, preparation, and implementation of various types of team building activities. This year it was a sunny Barcelona, where they tested, invented, and shared in three days.
From the outside, the program of this conference of representatives of business departments and project managers from different countries literally sounded like a fairy tale, because we basically just played around for three whole days.
We had tapas and coffee here and there, and then we continued to play.
Of course, the intention and reasons for playing had a much higher mission than just cementing an international team of similarly oriented colleagues, because at the end of this effort, inventing, testing, and evaluating, it is perhaps your team that is at stake.
We aim to offer you only the best and "world-class" proven activities! If we add an individual approach to the customer, we get an ideal and unique cocktail. We attach great importance to meetings like the last one in Barcelona. They help us not to rest on our laurels, and to constantly innovate and improve the best that we can prepare and implement for you.