Creative Teambuilding Game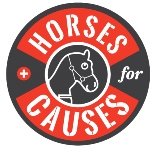 Horses for Causes is not just amazing fun; it also has a charitable element that enables participants to support the local community. At the start of the event, each team will receive a stack of distributed carton parts designed specifically for Catalyst. Then the time starts and the participants start to put 3D horse parts together. When all teams finished their horse, it's finally time to race. When the floor is tidy and the track is ready, the betting phase begins. Teams will run a series of high-stakes races. After the announcement of each race, new jockeys jump into the seats and the bets are closed again. Whiplash and good work in the wrist will lead teams to victory in the race. Anyway, you cannot miss a tactical betting – without it you will not win it.
As they say: "You have to risk it for the biscuit".