Creative and Collaborative Teambuilding Game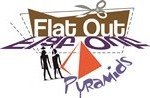 In ancient Egypt, the pyramid was more than just a building, it was a symbol of the ability of man to overcome the adversity of nature and to build an opulent structure that resists the time. Teams have to solve different problems in addition to the building itself. They build contacts at all levels and they need to be creative.
This popular teambuilding program starts with "self-focusing" as the participants work on their own jigsaw pieces. They have to manage their resources and must control quality of building blocks. It must be prepared in time and according to high quality standards. Following is a "team focus" because individuals have to connect together and step by step build blocks of pyramid. Finally, there will be a "focus on the group", which has the common task of combining all elements into a common pyramid.
The core of the final building is the central message of your company. Pyramid is a permanent reminder of the work power. Can you achieve a common goal in time?