Creative and Collaborative Teambuilding Game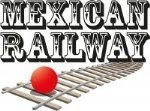 A great program to break the barriers in between people that requires cooperative thinking in the form of sophisticated competition and creative work. The task of the teams is to build a sophisticated system of railways and compete with each other. They have to do it within a time limit, using their best communication skills. The railroad is formed section by section using materials such as zippers, paper tubes, etc. After a short test ride, a race takes place. Teams have to work together and synchronize their progress.
This creates an environment in which everyone is cooperating and strives to stay ahead of the competition. This is a game that develops a number of important skills and supports rapid thinking at individual and group levels. You should plan some fun and refreshing program for your next conference. The Mexican Railway is a guaranteed way to connect all together and ride along the common tracks!