Creative and Collaborative Teambuilding Game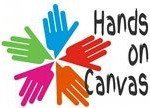 Sharing the experiences will consolidate relationships within your company. The practical "get color-dirty as you can" naturally motivates participants to a playful and creative atmosphere, a pleasant conversation and encourages their friendly attitude towards the others. By opening the palm, everyone is "subscribed" to the day full of co-operation and new experiences which can be ahead of them during great day.
How it works? At the beginning, participants are asked to pull up their sleeves, choose the color they want, and dip one hand into a thin layer of this water-based paint. People get relaxed and they are asked to put their hand in color and to press their hand anywhere on a white canvas. After a short cleaning of their hands, everyone signs under their original creation. The unique art piece made by team can be exhibited at a meeting or conference as a unique subject to debate, and then you can take it to the office where it will permanently demonstrate the uniqueness of your business.