HOW TO PICK THE BEST ENTERTAINMENT FOR YOUR CHRISTMAS PARTY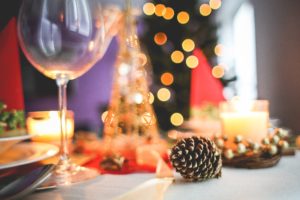 November is slowly moving in the second half and that means one thing – Christmas craziness everywhere you look. First Christmas decoration are starting to pop up as well as first Christmas trees in the shopping malls. The matter of course is one of the best Christmas kofola commercials that comes up every year about this time. And who hasn't heard famous line of "Will he have those big teeth bent up?" at least once during Christmas time.
For companies and corporates it means planning. Planning of well-deserved Christmas party for their employees as a reward for or simple thank you for their hard work and loyalty. It doesn't matter if it's thick Christmas bonus, prize such as weekend wellness. Everything happens on one place – Annual Christmas party.
Some prefer classical costume or a theme party such as "80's" and some will rather go for more modern theme such as "Uploading the future." Others will go for company dinner or buffet with a DJ and some evening activity.
How to pick the right entertainment for your specific party, so everyone still remembers after New Year's?
Christmas party can be boosted many ways, but did you know a photo can say more than 1000 words? One of the most popular activities for Christmas party is a photo booth. Our tip is to use our activity "In the Picture" to create unforgettable video loop made from photo booth photos with Christmas photo props at the end creating a company logo. It will be nice memory for everybody and trust us, you will have fun the whole night.
If you know your employees are more of extroverts than we suggest a Lip sync battle. It is very entertaining form of karaoke. But it has one big advantage and that is: your ears will not hurt. How is it possible? Easy your task is to create a show on a song of your choice with real microphone but on the playback. You are actually just pretending to sing. Everybody else than takes a vote on who was the best of the best etc. We suggest currently favorite Queen Song "We are the Champions." But of course the choice is fully yours.
If you are still not sure what to do on your Christmas party, give us a shout. We will be happy to help and create an evening entertainment according to your wish.