Competitive Teambuilding Game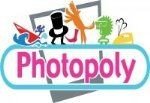 The game Photopoly is a voucher for an adventure full of fun and creative teamwork to explore the city where your conference is held. Each team gets a polaroid camera, a flyer with instructions and indices, a city plan and goes out into the streets to play the world's most famous board game. But when the team arrives at a famous place, it's not their job to buy a house or build a building or a hotel. Task is to photograph thein team so the layout matches the scenes described in the instructions. The Photopoly game is not limited to any particular place – you can organize it anywhere in the world. The game guarantees a refreshing, stimulating and exciting adventure with a focus on team collaboration and creativity. It allows you to breathe energy into any conference program.
At the end of the activity, the team will glue their photos to the giant Photopoly chalkboard and they can admire the work of their own and their colleagues.