ORCHESTRATE!
Creative and Collaborative Teambuilding Game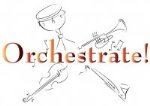 A strong and emotional musical experience where participants under control of conductor create a symphonic orchestra. "It cannot be done", they say. It is simply impossible! They say we're crazy …
But we did it, and we proved everyone that even a group of people without music experience could turn into a symphonic orchestra – and it took just 90 minutes! This is the Orchestrate program! Teambuilding program filled with experiences that will transform your people and unite through energy of the moment like they have not experienced yet. The Symphonic Orchestra is probably one of the best examples of the perfect teamwork. Musicians have to be tuned to the same emotional and creative wave. People have to work together to achieve a common goal even though every single one is holding different musical instrument .
Until now, only true musicians could experience this feeling of perfectly working "music machine". Music seems to have the power to move people. Orchestrate program will actually move your team forward and you will see them progress. After this, your people will be able to do anything!