SAFARI
Outdoor Teambuilding Game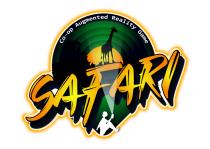 Safari is an urban augmented reality game for mobile devices, where players have to connect dynamically to collect items, find and catch animals before time runs out.​
It´s an ordinary night. The "Kamoola" discovers the sleeping guard of the wildlife reserve, steals the keys to the gate, opens it, and all the animals can escape. The teams download the application to their personal device and scan QR code. Using augmented reality, they must gather escaped animals and return them safely to the field. Players are assigned roles: "operators" have a large map with the location of the animals; "scientists" produce sedatives and "guardians" collect equipment to catch and transport animals.​
In Safari, each player must be aware of their role and strength. An interesting story and fantastic augmented reality game format encourage all ream members to take an active part. In an effort to reach a goal, teams must listen, consider all opinions, and make quick decisions in a limited time.​
The game can be adapted for large and small groups.​